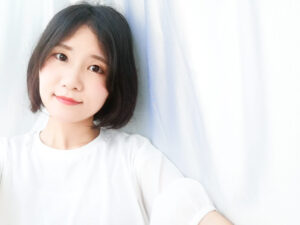 Orimi Imazato(今里 織望)
The rain is beautiful.
Someday I want to be able to paint this rain in a picture.
I still remember thinking this when I was a child, looking out the window at the rain.
In retrospect, that may have been the beginning of my desire for expression.
My mother was an oil painter. Therefore, I naturally began to paint from an early age.
My favorite painter when I was a child was Leonardo da Vinci, just like my mother. Therefore, I preferred realistic paintings.
At that time, the more I painted, the better I got at it, and the more praise I received from my family and others, the more attractive art became to me.
Also, my family was not wealthy in Japan, so when I was a child, I had to hold back a lot of things I wanted compared to those around me.
But in painting, it was different. If I painted what I wanted, I could have it.
I tried to get satisfaction from painting.
I could also get things in my paintings that did not actually exist in the world.
It was a picture for me that made me realize my thoughts, "If there's such a thing in the world."
But that was not all.
In the summer when I was 10 years old, I came across a painting.
It was a picture that meant resurrection.
A ray of light appearing out of the darkness, that's how I felt.
That is how my world of art has been since then too.
There is a shadow lurking somewhere, and the scene of breaking free from it came to mind.
I often wanted to paint pure and beautiful pictures, but the more I faced art, the more I just couldn't paint anything that was beautiful and full of joy most of the time.
Even at a very young age, I wanted to paint pictures that would break the existing fetters and lead someone to a higher place.
Also, as a college student, I became fascinated with contemporary art sculpture and studied sculpture.
Since that time, I have become even more intrigued by the thoughts and ideas that go into artwork, regardless of genre or style.
I like to express psychological.
I often draw people too.
People are elaborate, beautiful, and lacking.
I want to delve into the inner world of such people and help them where they are lacking and where they can grow more.
---
雨が素敵だな。
いつの日かこの雨を、綺麗に描けるようになりたい。
幼少期、窓から雨を眺めてそう考えたことを、今でも覚えています。
振り返ってみればそれが、私の表現に対する欲の始まりだったのかもしれません。
私の母は油絵を描く人でした。そのため、私は幼少期から自然に絵を描くようになりました。
子供の頃の好きな画家も、母と同じで、レオナルド・ダ・ヴィンチでした。そのため、昔は写実画を好んで描きました。
当時は、描けば描くほど成長する自分の絵。家族や周りの人々に褒めてもらえることが、私にとっての絵を描くことの魅力でした。
また私の家は、日本の中で考えると裕福ではなかったので、子供の頃は欲しいものを我慢することが、周りに比べ多くありました。
でも、絵の中は違いました。欲しいものを描けば、それを手中に収めることができます。
絵に描くことから、私は満足を得ようとしました。
また、実際に世の中に存在しないものでも、絵の中では手に入れられました。
「こういうものがあれば」そんな想いまで叶えてくれたのが、私にとっての絵でした。
でも、それだけではありませんでした。
私は10歳の夏に、とある絵と出会いました。
その絵は復活を意味するような絵でした。
暗闇の中から現れる一筋の光、そのように感じました。
それから私のアートに対する世界もそうなりました。
いつもどこかに影が潜んでおり、そこから脱却するという情景が浮かびました。
純粋で綺麗な絵が描きたいと思うことも多々ありましたが、私はアートに向き合えば向き合うほど、ただただ美しく、喜びに満ち溢れたものがあまり描けませんでした。
私は幼いながらも、既存の枷を壊し、誰かを高いところへ導くような絵が描きたいと思ったのです。
大学生になると現代アート彫刻に魅せられ、彫刻を勉強しました。
その頃から、ジャンルやスタイルに限らず、アート作品に込められた思いや考えに、さらに興味を引かれました。
私は心理的なものを表現することが好きです。
人物もよく描きます。
人は精巧で、美しく、足りていません。
そのような人の内面を掘り下げ、足りないところ、より成長できるところの助けになりたいのです。
Personal history(略歴)
1993  Born in Kyoto, Japan
2016  Graduated from Aichi University of Education, Faculty of Education, Secondary Education Teacher Training Course, majoring in art, sculpture laboratory
---
1993  京都府京都市に生まれる
2016  愛知教育大学 教育学部中等教育教員養成課程美術専攻 卒業
Books(掲載書籍)
2023 THE WORLD ART GUIDE 2023、Linus Cinnamoni
---
2023 「THE WORLD ART GUIDE 2023」Linus Cinnamoni 著
Group exhibition(グループ展)
2012  Akari Art, Space Aqua, Aichi
2013  Blue Fruit Exhibition, Citizen Gallery Yada, Aichi
2016  Aichi University of Education Teacher Training CourseSpecialized in Art and Major Contemporary Arts and Arts CourseGraduation and completion production exhibition majoring in art education, Kariya Museum of Art, Aichi
2016  Sculpture Exhibition, Citizen Gallery Yada, Aichi
2020  AU 2020, Accessories Exhibition Gallery Art Space (Shimamoto Shozo Gallery), Hyogo
2021  Intersection 12, #1010, Aichi
2022  NFT. NEW FREEDOM THINK, M.A.D.S. Art Gallery, Milano (Italy) & Fuerteventura (spain) & Metaverse
2022 BRAIN CAKE, Casa Mila, Barcelona(Spain)
2023 CROSS OVER Vol.43, JCCAC(Jockey Club Creative Arts Centre), Hong-Kong(China)
---
2012 「あかりアート」スペースアクア、愛知
2013 「青い果実展」市民ギャラリー矢田、愛知
2016 「愛知教育大学 教員養成課程美術専修・専攻 現代学芸課程造形文化コース 大学院芸術教育専攻美術分野 卒業・修了制作展」刈谷市美術館、愛知
2016 「彫刻展」市民ギャラリー矢田、愛知
2020 「AU2020小品展」Gallery Art Space(嶋本昭三ギャラリー)、兵庫
2021 「intersection12」#1010、愛知
2022 「NFT. NEW FREEDOM THINK」M.A.D.S. Art Gallery、イタリア(ミラノ)、スペイン(フエルテベントゥラ島)、メタバース
2022 「BRAIN CAKE」 Casa Mila、スペイン(バルセロナ)
2023 「CROSS OVER Vol.43」JCCAC(Jockey Club Creative Arts Centre 賽馬會創意藝術中心) 、中国(香港)